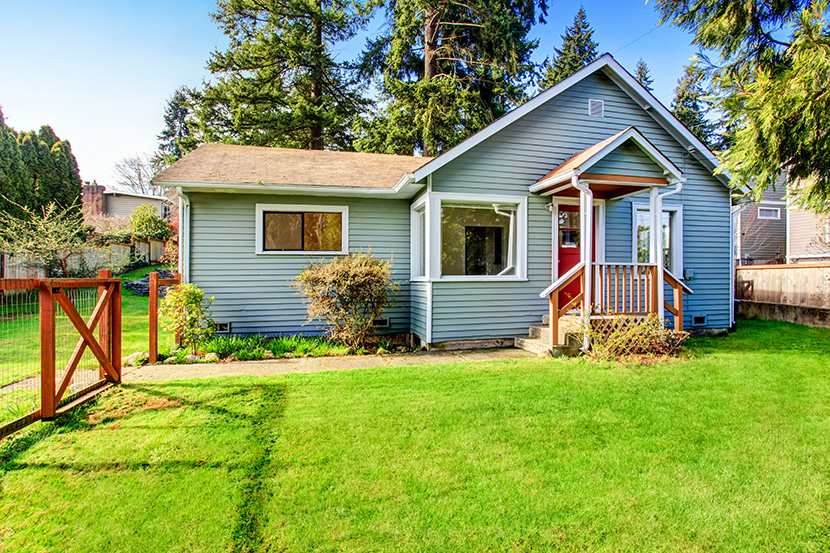 A few years back, I finally decided to take the leap! I overcame the anxiety-inducing "analysis paralysis" and finally closed my first deal. How was it? Smooth as silk. Easy as pie. A walk in the park. A piece of cake. Insert your cliché of choice right here.
For those of you on the brink of buying your very first property, I totally understand why you might hesitate. This is probably the biggest purchase of your entire life to date. It can also be difficult to find the "perfect" property that meets both your emotional and cash-flowing needs.
So what's the bottom line? If it's a house hack you're after, then your goal is to cash flow period. This property is not going be your dreamy "forever home", so start by putting emotions aside, run those numbers, and if if they work, do it. Make the offer.
So now that you've put your feelings aside, and run the numbers, all of these catastrophic scenarios will likely begin to run through your head: What if I can't find decent renters? What if the furnace breaks? What if the roof just falls off!? Ad infinitum.
Let's be honest, there are countless scenarios of what could go wrong. Just ask Chicken Little. However, all those crazy scenarios are the exception, not the rule.
For those of you who may feel uneasy making that first offer on a house hack property, this article is definitely for you. I'll describe the seven steps I took to close on my first house hack—and you'll learn just how easy it can be.
7 Steps I Took to Land My First House Hack (& Rent It Out) With Ease
Step #1: Build a team
The first step is to build a team that can support you. As things come up (i.e., repairs, tax planning, litigation, etc.), your team will continue to grow. But ultimately, there are only two teammates that are absolutely crucial to your first purchase: your agent and your lender.
When I finally decided it was time to move to Denver, the first thing I did was reach out to the BiggerPockets community seeking lender recommendations. I then went through the process of getting prequalified with five different lenders, ranging from local credit unions to big banks. By getting prequalified, I developed an understanding of what I could realistically afford.
Once prequalified, it was time to find an agent to assist with the property search and closing process. Again, I reached out to the BiggerPockets community in Denver and met with several different agents before finding the right fit and committing. Though this part of the process was a bit tricky, I ultimately decided on someone who was good with numbers and did not try to sell me based on the emotional side of first home investment.
Step #2: Find the right property
Now it's time to activate those detective skills.
Denver, Colorado is undoubtedly one of the hottest real estate markets in the country, and you will still can encounter many naysayers who claim that cash-flowing properties are impossible to find. Maybe it's impossible for them, but it was relatively easy for me.
My agent got me dialed into the to the Mulitple Listing Service (MLS), where I would receive automatic email alerts every time a Denver metro property within my price range hit the market or decreased in price. After an entire month of running numbers and declining many propertiesI finally found a property that might just work.
Step #3: Analyze the property.
The property in question was a fully renovated duplex. Made up of two quaint 1-bedroom, 1-bathroom apartments, this property had been on the market for two months (an eternity in Denver!), and the price had recently reduced to $400K. The duplex was located in an up and coming part of Denver, what we like to call "the path of progress," about 1.5 miles from where I worked, which could make for an easy commute by bike or foot.
I began to inquire about the average rental rate with other property owners in the area. After talking with other landlords, I knew I could likely charge a bit more than the average given this one was newly updated.
Now that I had assumed rent, I started to run the numbers using a calculator like the one The FI Team rental property calculator, and I could see what my rent would need to be in order to cash flow (aka. be living for free). No matter which way I turned it or how I cut corners, the math just wasn't working. No matter what I did, I would be losing about ~$750 each month. While this may seem cheap if you are renting, and I'd be benefitting from the loan paydown, it stilljust wasn't good enough.
So what did I do? I decided it was impossible to find a property in Denver. I got some ice cream, sat on the couch, and tried to forget my sorrows with reruns of Desperate Housewives. There I remain to this day.
Just kidding. I don't actually eat ice cream! No for real, what I did was ask myself, "What do I need to do to make this property work?"
At such an ideal location and freshly renovated, I knew this property could have potential on Airbnb. After doing some research, I determined that I would be able to make around $1,000 each month if I rented out my own bedroom in addition to the other unit, while making a pseudo-bedroom in the living room where I could sleep. With an extra $1,000 each month, I would be cash flowing $250 per month on a duplex that was walking distance from my office.
Works for me! So I went for it.
Step #4: Making the offer
After talking it over with my agent, we decided to take the plunge and finally put an offer in. My first. Ever. Offer!
We ran the numbers once more and determined a price point of $360K would be ideal. While not entirely lowballing, this price point could give us just enough wiggle room for some negotiation.
[Side note: I know there's a popular saying "If you're not embarrassed by your offer, it's too high". In smaller buyer's markets, I can agree. But in a booming seller's market like Denver, there are multiple buyers lined up at almost every property, so a lowball could easily go on to be simply ignored by the seller. In other words, it's riskier.]
Over the next few days, we negotiated back and forth and finally settled at a selling price of $385K. Once that was was settled and the offer was accepted, I sent over the earnest money.
Step #5: Do the due diligence and close on the property
As soon as the offer was accepted, I immediately let my lender know that I had a property under contract so that they could get started on due diligence to meet the necessary deadlines.
We had a full inspection done (sewer scope included) and only minor tweaks to the property were needed. This included the installation of a railing, grounding electrical wires, and making sure all of the doors fit properly. The seller fixed them without any issue.
The lender then hired an appraiser, and the property came back at $390K. Given the sale price of $385k, that means I built $5,000 of equity immediately upon closing (woot woot!).
Next the lender two to three weeks to underwrite the loan, and that's typical.
And then, on June 17, 2017 (one month after my offer was accepted), we were finally ready to close. I brought a cashier's check to the closing and sat down with the seller, my agent, and the title company. We reviewed and signed all of the documentation. After about an hour, and a plethora of signing here and initialing there, I was officially a property owner!
Step #6: Find tenants.
Pre-showing
In many (if not all) states, you cannot have any signed leases before closing on a property. However, I found that I could absolutely still advertise and show the property during the closing process, magnetizing potential renters. Doing this was a life saver for me, and I can't recommend highly enough that you do the same to reduce initial vacancy time.
So once the property was under contract, I created a rental listing using Zillow Rental Manager. This service creates one listing and uploads it in a nice format to Hotpads, Trulia, and Craigslist.
As the inquiries started to roll in, I scheduled brief, 10-minute phone calls to gauge the credibility of potential tenants. I did not want to waste time showing the property to unqualified tenants. Here's the questions I asked in those initial calls:
Where do you live now?
How much is the rent?
Why are you choosing to move?
What is your (and your spouse's) annual salary?
How is your relationship with your current landlord?
Do you have any pets?
Have you ever been evicted?
If these questions were answered to my liking, we would set up a time for a showing.
Showing
Since the place was brand new and already in "show condition", there was not much for me to do in terms of getting it "tour ready". I immediately began to show the property after closing. Since the apartment was relatively small, most showings wouldn't go longer than about 10 minutes. I would meet them there, talk with them for a few minutes first, and then give them the grand tour.
After showing them around myself, I would leave the unit and let them explore by themselves, giving them space to talk amongst themselves comfortably without feeling pressured to give an immediate answer.
Post-Showing
After establishing that the potential tenants were interested, I collected a $40 application fee to confirm intent and pay for a background/credit report. As part of the screening process, I made sure the following boxes were checked:
Obtained credit report and confirmed credit score of at least 600
Performed a background check and confirmed there was no criminal record
Requested the last two pay stubs to confirm annual salary
Called two or three previous landlords
Called employer to make sure jobs were stable AND that pay stubs matched what was reported
Once all of these necessary boxes were finally checked, I let the tenants know that they had been approved.
Step #7: Sign the lease with your tenants.
I closed on the property at 10:00 a.m. on June 17th, and by noon of the same day I signed the lease with my tenants! We met at the property, and I ran them through the lease. I also created a "layman's lease," which is the lease in an easy-to-understand PowerPoint presentation, to make sure they fully understood what it entailed and stranslate all that thick legalize.
Once the lease was signed, this process was complete.
Conclusion
So there you have it—the breakdown of my first house hack. It went extremely smoothly, and wasn't nearly as intimidating as I had feared. I know we've all heard the horror stories, but again, those are definitely the exception—not the rule.
Did I get the best deal in Denver? Yeah, probably not.
But am I better off than those who passed on this deal because they let their inner Chicken Little get the best of them? Most definitely!
My suggestion for those still looking to find their first real estate purchase is to just do it! You're not going to get rich from one property, so think realistically. Real estate isn't a get rich quick scheme. The slow game wins, but you've got to get started asap for it to win in the long term.
Even if your first purchase doesn't quite go the way you want it to, the lessons you'll learn through the process will be invaluable. 20 years from now, you'll look back and be glad that you did it. Just ask anyone who has owned a property for 20 years.
Good luck!